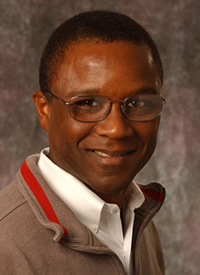 Professor
Graduate Faculty, SMLR
B.A., Dartmouth College; M.A., University of California, Santa Barbara; M.A., Harvard University; Ph.D., Harvard University
Research Interests
Causes and consequences of economic and social inequality
Skills gaps and skills shortages
The impact of macroeconomic policy on labor market outcomes
The federal minimum wage and food security
William M. Rodgers III is Professor of Public Policy and chief economist at the Heldrich Center for Workforce Development at Rutgers University. He is a member of the graduate faculty of Rutgers' School of Management and Labor Relations, and a senior research affiliate of the National Poverty Center, University of Michigan. In 2006, he was elected to the membership of the National Academy of Social Insurance. He is Co-Chair of the Academy's 2010 Conference, "Lessons from a Bad Economy for Jobs, Retirement, and Health Security." From November 2009 to January 2010, Rodgers served on President Obama's Department of Labor Transition Team.
Locally, Professor Rodgers is Vice Chair of Montgomery Township's Planning Board and Board Chair of Somerset County's United Way. At the state level, he served on Acting Governor Codey's pensions benefits review task force and currently is a member of Governor Corzine's commission on government efficiency and reform. At the regional level, Rodgers is a member of the United Way of America's Regional Operating Council.
Prior to coming to Rutgers, Rodgers served as chief economist at the U.S. Department of Labor from 2000-2001, appointed to that position by Alexis Herman, U.S. Secretary of Labor. At the time of his appointment, he was the Frances L. and Edwin L. Professor Cummings of Economics at the College of William and Mary.
Professor Rodgers' research examines issues in labor economics and the economics of social problems. Building on his edited volume, Prosperity for All (Russell Sage Foundation) and studies published by the Federal Reserve Bank of New York, the Center for American Progress, and the Upjohn Institute, he is comparing the benefits of the most recent economic expansion to previous expansions, with a particular focus on the income of minority and disadvantaged workers. Professor Rodgers' most recent book, The Handbook on the Economics of Discrimination, published by Edgar Elgar was selected by Choice, the review journal of the American Library Association, as an "Outstanding Academic Book for 2006". His current research on racial inequality includes a study on the economic status of the New Jersey's minorities, and pieces in the National Urban League's State of Black America and American Prospect's Special Issue, The Color of Opportunity.
Rodgers' expertise is frequently called upon by journalists for articles in The New York Times, Washington Post, The Financial Times, U.S.A. Today, Business Week, and other publications. He has been a guest on NBC's Meet the Press, CNN's Your Money, CNBC's Squawk Box, and CNNfn and many radio talk shows. His policy work includes testifying before the New Jersey Assembly Commerce and Economic Development Committee, New Jersey State Labor Committee, Joint Economic Committee, U.S. Congress, the Joint Sub-Committee Studying the Status and Needs of African American Males in Virginia, and serving as a consultant for the state of Virginia, the Joint Center for Economic and Political Studies, and the AFL-CIO.
Rodgers serves on numerous boards. He is a Past President of the National Economic Association and is currently a member of the American Economic Association's Committee on the Status of Minorities in the Economics Profession, and runs the Association's mentoring program that seeks to increase the numbers of minorities that obtain economic doctorates. Rodgers is a member of Marc Morial's National Urban League Council of Economic Advisors and a member of the Center for American Progress' Academic Advisory Board.
Complete Curriculum Vitae (C.V.)
Recent Publications
Articles in Refereed Journals
2014: "The Impact of 9-11 and the London Bombings on the Employment and Earnings of U.K. Muslims," August 2010. IZA Discussion Paper #4763. (with Faisal Rabby).
2014: "Evolving the U.S. Department of Labor for the New Workforce," Industrial and Labor Relations Review, Supplement: A Special Issue on the U.S. Department of Labor Centennial Symposium 67, 2014, (with Sara Horowitz and Gabrielle Wuolo).
2013: "`End of Men'" Conversation on Employment and Wages," Boston University Law Review. May 2013.
Other Publications
2016: "The Impact of a $15 Minimum Wage on Hunger in America," The Century Foundation, (September 1, 2016). https://tcf.org/content/report/the-impact-of-a-15-minimum-wage-on-hunger-in-america/
2016: "Black-White Wage Gaps Expand with Rising Wage Inequality," The Economic Policy Institute, (September 20, 2016). (With Valerie R. Wilson).2012: "Futurework 2.0: Life After the Great Recession,"January 2012. Heldrich Center for Workforce Development.
2015: "How America is Failing Dads (and All Working Parents): Father's Day Commentary in Fortune Insider," Fortune Magazine, (6/17/ 2015, 5:00 AM EDT). http://fortune.com/2015/06/17/how-america-is-failing-dads-and-all-working-parents/
Areas of Expertise: Economics, Labor Policy, Social Policy/Inequality and Disparities, Statistical Research Methods